64 BANDS – 17 DAYS – 1 WINNER
No March Madness? No fear. The Edge is here where the past meets the present.
The Spirit of Radio. The CASBYs. Edgefest. Alternative Toronto.
Who will win it all? You decide who moves on in the inaugural March Madness of 102.1 the Edge.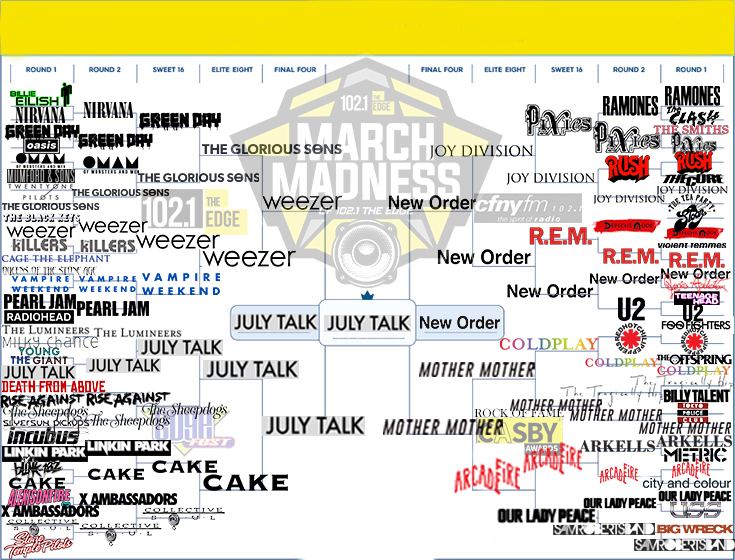 ZOOM IN, PRINT IT OUT, AND FOLLOW ALONG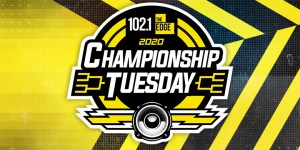 CHAMPIONSHIP TUESDAY
Tuesday, March 31st, 2020
July Talk 92% New Order 8%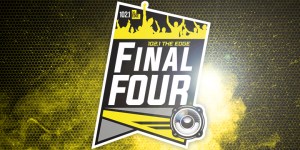 FINAL FOUR RESULTS
Monday, March 30th, 2020
July Talk 86% Weezer 14%
New Order 82% Mother Mother 18%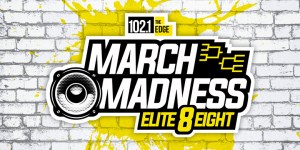 ELITE EIGHT RESULTS
Sunday, March 29th, 2020
Weezer 63% The Glorious Sons 37%
July Talk 68% Cake 32%
New Order 76% Joy Division 24%
Mother Mother 71% Arcade Fire 29%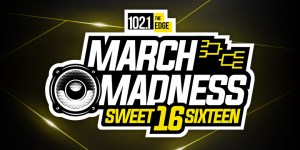 SWEET 16 RESULTS
Saturday, March 28th, 2020
Joy Division 85% Pixies 15%
New Order 82% R.E.M. 18%
Mother Mother 85% Coldplay 15%
Arcade Fire 87% Our Lady Peace 13%
Friday, March 27th, 2020
The Glorious Sons 87% Green Day 13%
Weezer 72% Vampire Weekend 28%
July Talk 90% The Sheepdogs 10%
Cake 87% Collective Soul 13%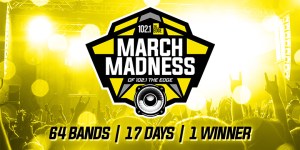 ROUND OF 32 RESULTS
Thursday, March 26th, 2020
The Glorious Sons 75% Of Monsters and Men 25%
Collective Soul 72% X Ambassadors 28%
Pixies 70% Ramones 30%
Coldplay 70% Red Hot Chili Peppers 30%
Wednesday, March 25th, 2020
Weezer 62% The Killers 38%
July Talk 75% The Lumineers 25%
New Order 52% U2 48%
Our Lady Peace 57% Sam Roberts Band 43%
Tuesday, March 24th, 2020
Vampire Weekend 54% Pearl Jam 46%
Cake 59% Linkin Park 41%
R.E.M. 77% Depeche Mode 23%
Mother Mother 52% The Tragically Hip 48%
Monday, March 23rd, 2020
Green Day 62% Nirvana 38%
The Sheepdogs 64% Rise Against 36%
Joy Division 54% Rush 46%
Arcade Fire 59% Arkells 41%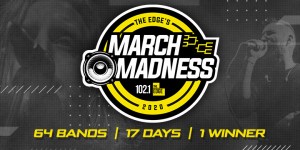 ROUND OF 64 RESULTS
Sunday, March 22nd, 2020
The Glorious Sons 69% twenty-one pilots 31%
Collective Soul 54% Stone Temple Pilots 46%
Pixies 59% The Smiths 41%
Red Hot Chili Peppers 69% Foo Fighters 31%
Saturday, March 21st, 2020
Weezer 85% The Black Keys 15%
July Talk 91% Young the Giant 9%
New Order 79% Jane's Addiction 21%
Sam Roberts Band 82% Big Wreck 18%
Friday, March 20th, 2020
Vampire Weekend 57% Queens of the Stone Age 43%
CAKE 55% blink-182 45%
R.E.M. 57% Violent Femmes 43%
Mother Mother 66% Tokyo Police Club 34%
Thursday, March 19th, 2020
Green Day 60% Oasis 40%
The Sheepdogs 60% Silversun Pickups 40%
Joy Division 56% The Tea Party 44%
Arcade Fire 59% City and Colour 41%
Wednesday, March 18th, 2020
Of Monsters and Men 55% Mumford & Sons 45%
X Ambassadors 52% Alexisonfire 48%
Ramones 56% The Clash 44%
Coldplay 59% The Offspring 41%
St. Patrick's Day, 2020
Depeche Mode 53% Sloan 47% (OVERTIME)
The Killers 55% Cage the Elephant 45%
The Lumineers 78% Milky Chance 22%
U2 72% Teenage Head 28%
Our Lady Peace 52% Ubiquitous Synergy Seeker 48%
Monday, March 16th, 2020
Pearl Jam 59% Radiohead 41%
Linkin Park 80% Incubus 20%
The Tragically Hip 65% Billy Talent 35%
Sunday, March 15th, 2020
Nirvana 83% Billie Eilish 17%
Rise Against 65% Death From Above 35%
Rush 57% The Cure 43%
Arkells 59% Metric 41%