The Edge $10k One Minute Movie was your chance to go all Sofia Coppola on your smart phone and pocket $10,000. All you had to do was recreate your favourite film in 60 seconds or less. Not a scene – the ENTIRE movie!
After much deliberation and almost 350 submissions we have both our $10,000 Grand Prize winner – selected by Corus Judges across Canada, and our $1,000 Fan Favourite – voted on by YOU!
The $10,000 One Minute Movie winner is…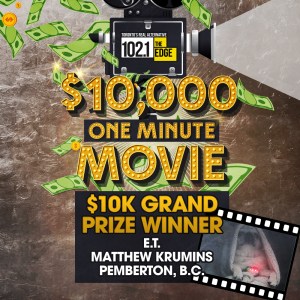 MATTHEW KRUMINS – ET (Pemberton, BC)
GRAND PRIZE WINNER: $10,000
The $1,000 Fan Favourite Winner is…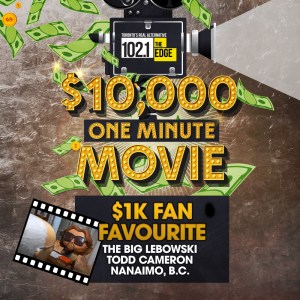 TODD CAMERON – THE BIG LEBOWSKI (Nanaimo, BC)
FAN FAVOURITE WINNER: $1,000
Thank you to everyone who participated in the 10K One Minute Movie!