Warning: This story contains details that might be disturbing to some. Discretion is advised.
The 28-year-old man accused of killing 10 and injuring 16 after driving a van down Toronto's Yonge Street in 2018 over the course of several minutes has pleaded not criminally responsible to the charges.
Alek Minassian, wearing a black suit jacket and a light-coloured shirt, appeared in a virtual court proceeding from the Toronto South Detention Centre Tuesday morning and made the plea before Justice Anne Molloy of the Ontario Superior Court of Justice.
Tuesday marked the first day of Minassian's trial. He is charged with 10 counts of first-degree murder and 16 counts of attempted murder.
Read more:
Experts explain Toronto van attack suspect's likely defence of not criminally responsible
In an agreed statement of facts read out by Crown attorney Joseph Callaghan, Minassian admitted to planning and carrying out the attack on April 23, 2018.
"The only issue in this trial … is the criminal responsibility," Callaghan said, noting multiple psychiatric and psychological experts will be called to present evidence.
"Minassian agrees that he intended to kill those people, that the murders were planned and deliberate, and that he in fact did cause the death of those people."
He described how Minassian called a vehicle rental company in Vaughan on April 4 to reserve a vehicle for pickup on the afternoon of April 23. According to the document, Minassian was dropped off at a retail store four kilometres away from the rental company by his father, whom he lied to about meeting a friend.
Read more:
These are the victims of the Toronto van attack
Minassian eventually walked to the company and rented the van, telling an employee he was going to be moving furniture. However, he drove to the area of Yonge Street and Finch Avenue West and began his attack, which he referenced in a post on Facebook.
Callaghan methodically detailed Minassian's route down Yonge Street and summarized what happened before each victim was struck, occasionally showing photos of bodies under tarps and surveillance video clips of the travelling van.
"At no point after hitting this first group of people did Minassian slow down or stop to render assistance to those he struck. Instead, Minassian accelerated the van as he went over people," he told the court.
Callaghan noted the vehicle appeared to be travelling at various speeds throughout the seven-minute journey, topping out at 47 km/h at one point. He described how it was reported that one store window shook due to the speed of the vehicle.
Read more:
Alek Minassian suspected driver in Toronto van attack that killed 10, injured 14
After one of the injured victims was hit near Yonge Street and Kempford Boulevard, Callaghan said the force of the impact "caused the victim's socks to be knocked off his feet" and part of the vehicle broke away.
In another example showcasing the force of the impact, Beverly Smith, who was 80 at the time, was hit near Yonge Street and Empress Avenue. He said the damage from the van left her with exposed organs and both of her legs had to be amputated.
As Minassian proceeded south on Yonge Street, 33-year-old Andrea Bradden was walking when she was struck. Her drink flew back onto the windshield, something that ultimately to the end of the attack, Minassian would later tell police in a previously released four-hour interview.
"(Bradden's) upper body wrapped onto the hood of the van but her legs were forced out in front of her. Bradden fell to the ground," Callaghan said.
Read more:
Looking back at the Toronto van attack: How 7 minutes changed the city
"Pedestrians on the sidewalk were panicking and running for their lives as Minassian was deliberately driving at people."
He also said someone attempted to chase Minassian down and tried, unsuccessfully, to open the door and stop the vehicle.
Minassian was arrested moments later by Const. Ken Lam, who was praised for his use of de-escalation techniques during the arrest and for not using a weapon. In-cruiser video footage was shown of Lam pulling alongside where Minassian was stopped on Poyntz Avenue.
"I have a gun. Kill me now! Kill me now! Shoot me," Minassian said to Lam, according to the agreed statement of facts.
Minassian later told police he tried to engage in "suicide by cop" by flashing his wallet, hoping it would be mistaken for a gun.
Read more:
Splashed drink led to end of deadly Toronto van attack, accused told police
Assistant Crown attorney John Rinaldi played for the court a recording of the four-hour interview.
In the interview, Minassian told Toronto Police Det. Rob Thomas it was him behind the wheel. Minassian discussed how the incel (involuntary celibacy) community and past rejection from women fueled his desire to act.
Thomas, a veteran Toronto police officer and polygraph examiner, was brought in to question Minassian. The videotaped interview, which was released after lawyers for media outlets challenged a publication ban, occurred at a police station near the scene, starting almost nine hours after Minassian was taken into custody.
When asked several questions about his background, Minassian often told Thomas he didn't want to answer the questions. However, when the conversation — often casual and calm in tone — turned to how he was treated by women and relationships, Minassian began to open up to Thomas.
The trial was scheduled to resume Thursday morning.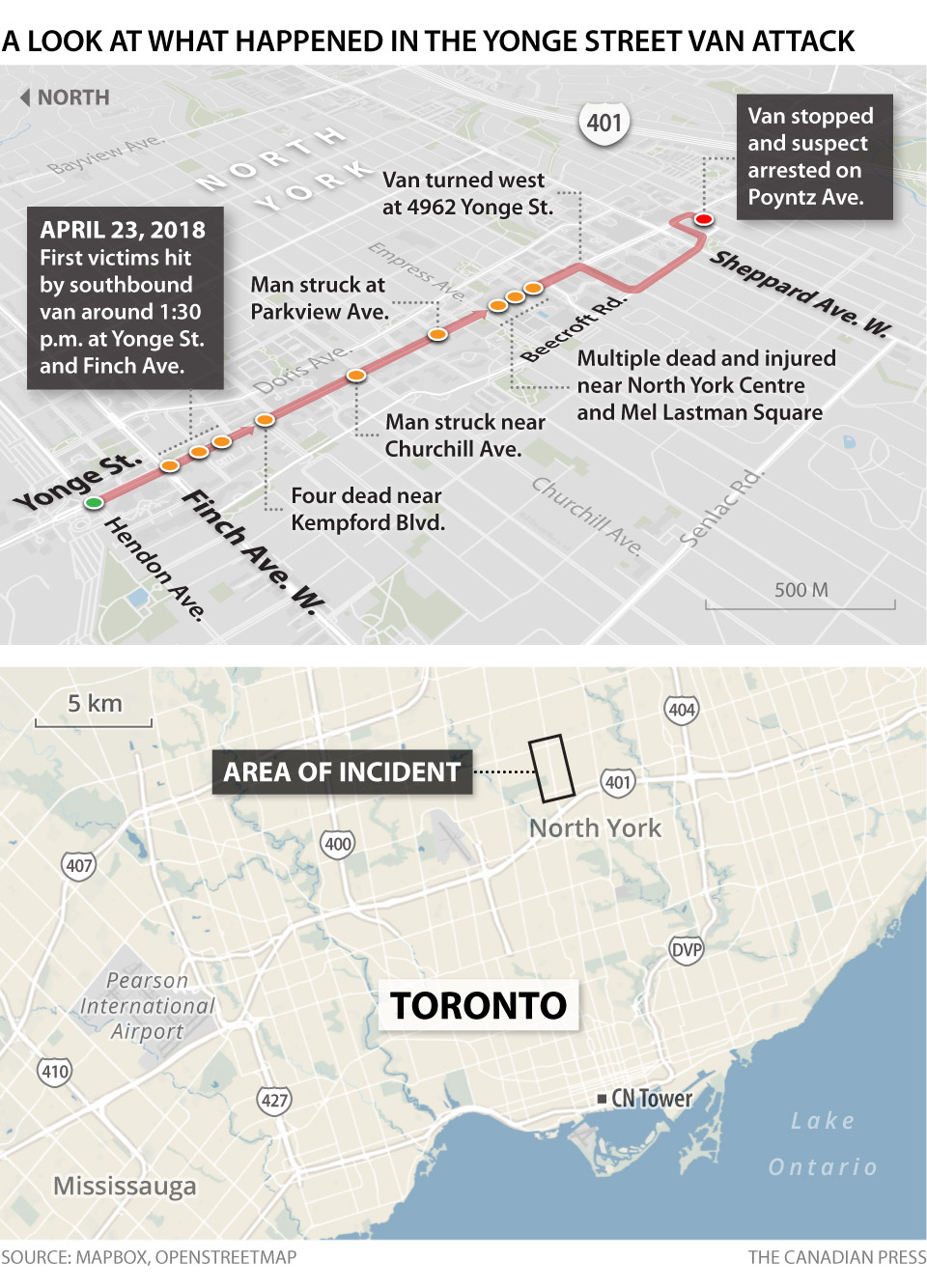 Good morning, today marks the beginning of the trial of Alek Minassian. He is charged with 10 counts of first-degree murder and 16 counts of attempted murder in connection with the #Toronto van attack. @cmcdonaldglobal, @davewoodardnews and I will be covering the proceedings.

— Nick Westoll (@NWestoll) November 10, 2020
There appears to be some issues with the @SCJOntario_en Zoom feed of the trial. Staff have been working to sort out tech issues for the past half hour.

— Nick Westoll (@NWestoll) November 10, 2020
Justice Molloy explains that video, photos and audio can't be captured and rebroadcast. She said the fine, if convicted, is up to $25,000 and a sentence of up to six months.

"And we will enforce those rules," Justice Molloy notes.

The formal proceedings are now beginning.

— Nick Westoll (@NWestoll) November 10, 2020
In an agreed statement of facts, Crown Attorney Joseph Callaghan is recreating Minassian's path down Yonge Street. He is highlighting how each victim was hit, showing visuals of each instance.

He said the force of impact caused the socks to come off one of the injured victims.

— Nick Westoll (@NWestoll) November 10, 2020
Today is Day 1 of the Yonge Street van attack trial. If you want to watch the trial, go to the Metro Toronto Convention Centre Room 718B and Room 716 where there will be a live feed. @SCJOntario_en is not open to the public for this trial since it is taking place via zoom. https://t.co/aCBQpR8Y8L

— Catherine McDonald (@cmcdonaldglobal) November 10, 2020
The crown attorney Joseph Callaghan is now making his opening statement "… when their worlds were shattered by the actions of Mr Minassian killing ten people and injuring 16 others. His actions are not in dispute. He will be admitting his actions were planned and deliberate ..

— Catherine McDonald (@cmcdonaldglobal) November 10, 2020
We just saw surveillance video of Minassian driving the Ryder van down Yonge Street and now a picture. "Minassian intentionally drove his vehicle at this group and struck 7 pedestrians with the van. … #Minassian accelerated over top of victims"

— Catherine McDonald (@cmcdonaldglobal) November 10, 2020
We see dashcam video of #Minassian driving through a red light at the intersection. The Ryder van has visible front end damage. He took Bogert back to Yonge street and travelled SB on west sidewalk. He turned at Poyntz Ave. Stopped exited the van

— Catherine McDonald (@cmcdonaldglobal) November 10, 2020
We are now seeing dash cam video from the squad car. Officer Lam can be seen holding up his sidearm and is heard yelling "get down" repeatedly. It's 1:30 pm. We now see Minassian walking into the frame, surrendering with his hands up. He goes down to the ground Lam arrests him

— Catherine McDonald (@cmcdonaldglobal) November 10, 2020
© 2020 Global News, a division of Corus Entertainment Inc.